We need more orange pegs and green pegs.

This article is currently under construction. You can help by expanding it; it's your choice.
Kablooey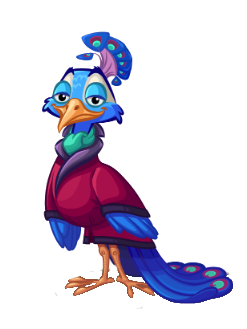 Culture
Unknown
Gender
Male
Species
Peacock
Magic Power
Unknown
Special Style Points
Unknown
First Appearance
 ?
Kablooey is a Peggle master introduced in Peggle Blast. His power is named Ka-blooey, which, when the ball hits a blue peg, it will sprout peacock feathers in a ring around it, hitting all pegs in the radius. 
Kablooey's power is named Kablooey as well. It's main effect is to light up any nearby pegs whenever a blue peg is hit. Because of the powerful ability that he has, the effect only lasts for 1 turn.
Ad blocker interference detected!
Wikia is a free-to-use site that makes money from advertising. We have a modified experience for viewers using ad blockers

Wikia is not accessible if you've made further modifications. Remove the custom ad blocker rule(s) and the page will load as expected.