​ Luna is a Peggle master introduced in Peggle 2.
Luna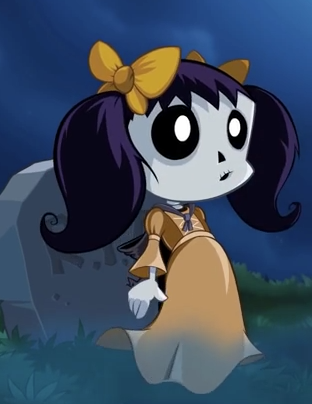 Culture
Gravely Grove
Gender
Female
Species
Ghost
Magic Power
Nightshade
Special Style Points
Ghost Touch (10,000 points)
First Appearance
Moonlight Passaway
"Nightshade transform blue pegs into ghost, making it easier to hit the orange pegs. It also resurrects previously destroyed pegs to shoot through for maximum score!"
Luna's ability is Nightshade, which allows her to turn blue pegs into "ghosts", making it easier to hit the orange ones, adding the blue "ghost pegs" to the score. It also "resurrects" previously destroyed blue pegs to shoot through for bonus score.
On "Happy Happy Hedges", It Shows That Renfield Is Friends With Her
It's Unknown That How Luna Became A Ghost
In Her Trailer, You Can See The Same Zombie Hand From "Plants Vs. Zombies", 
Ad blocker interference detected!
Wikia is a free-to-use site that makes money from advertising. We have a modified experience for viewers using ad blockers

Wikia is not accessible if you've made further modifications. Remove the custom ad blocker rule(s) and the page will load as expected.