Phoebee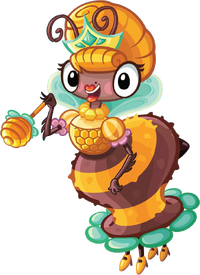 Culture
Unknown
Gender
Female
Species
Bee
Magic Power
Bee Bee Gun
Special Style Points
Free Ball Frenzy (5,000)
First Appearance
Hive-y Holes
Phoebee is a character and master in Peggle Blast.
Appearance
Edit
She is a queen bee. She always holds a wand-like stick in her hand.
Bee Bee Gun
Edit
The Bee Bee Gun is Phoebee's green peg power, which is active after the turn the player hits a green peg using her. Next turn, the player will be able to shoot four "bees", which are in fact balls. They work like as normal balls, but they can directly hit goop and armored pegs, and instantly hatch eggs. However, they cannot instantly take out the fireballs.
Ad blocker interference detected!
Wikia is a free-to-use site that makes money from advertising. We have a modified experience for viewers using ad blockers

Wikia is not accessible if you've made further modifications. Remove the custom ad blocker rule(s) and the page will load as expected.