Renfield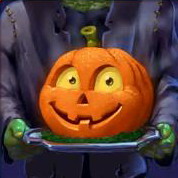 Culture
Spooky House
Gender
Male
Species
Pumpkin
Magic Power
Spooky Ball
Special Style Points
Unknown
First Appearance
Waves
Renfield is a talking sentient pumpkin carried around on a platter by his valet, Igor, and is the 6th master you meet in Peggle's Adventure Mode and is a member of the Peggle Institute.
Appearance
Edit
He has bright-green stem, yellow eyes,orange skin
Spooky Ball
Edit
Renfield's power is Spooky Ball which makes the ball spookily reappear on the top of the screen when it drops below the Bucket line.
Scary Night
Seasick
NOOOOO!!!
Twiching Hour
Nowhere Stairs
to be added
In Plants vs. Zombies, Renfield is actually Pumpkin's cousin from the almanac entry.

The zombie holding him may be related to the ones in Plants vs. Zombies.

He is the second Peggle Master that isn't an animal. The first was Splork.
Scary Night is similar to The Starry Night by Vincent Van Gogh.
Seasick is similar to The Great Wave off Kanagawa by Hokusai.
Ad blocker interference detected!
Wikia is a free-to-use site that makes money from advertising. We have a modified experience for viewers using ad blockers

Wikia is not accessible if you've made further modifications. Remove the custom ad blocker rule(s) and the page will load as expected.