Roxy Raccoon is certainly our most eccentric Peggle Master. Who else kills spiders with empty soda cans?
- Peggle Blast Facebook
Roxy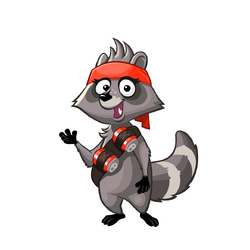 Roxy Raccoon - a Peggle Master in Peggle Blast
Culture
Unknown
Gender
Female
Species
Raccoon
Magic Power
Soda Pop
Special Style Points
None
First Appearance
 ?
Roxy (full name: Roxy Raccoon) is a Peggle Master in Peggle Blast.
When the player hits a green peg, this power will be active in the next turn. The ball will become a soda can which is bigger when hitting anything including pegs. Once it is big enough, it will explode, hitting all the pegs in a large area.
If the soda can goes into the Free Ball Bucket, it will fly up and hit any peg in its way. This lasts for a short time.
Ad blocker interference detected!
Wikia is a free-to-use site that makes money from advertising. We have a modified experience for viewers using ad blockers

Wikia is not accessible if you've made further modifications. Remove the custom ad blocker rule(s) and the page will load as expected.