Peggle Blast has been updated into 2.4.0 version! Here are the new features!
Phoebee and 15 new levels
Phoebee is a new Master who can shot 4 bees at once to hit hard to the pegs! Enjoy 15 new levels with the bee-hive map!
Meet new Popfrogs! They work exactly like the bombs, but they can move around the screen and hit nearby pegs when hit.
St. Patrick Day Party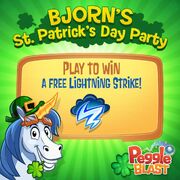 Happy St. Patrick Day, Peggle Masters! Enjoy 7 days of St. Patrick. Win at least 5 days to get a FREE Lightning Strike - a new Power-up!
Ad blocker interference detected!
Wikia is a free-to-use site that makes money from advertising. We have a modified experience for viewers using ad blockers

Wikia is not accessible if you've made further modifications. Remove the custom ad blocker rule(s) and the page will load as expected.